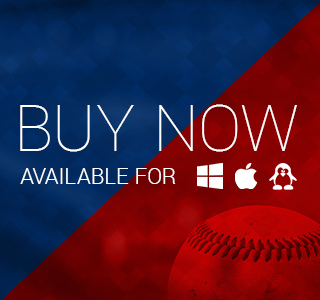 CURT SCHILLING SAYS:
"The only baseball sim I've ever gotten addicted to"
OOTP 15 is just $39.99 $19.99 (Offseason Special Discount, save 50%!) and features everything you need to build your own baseball world. Simply download the game, make your purchase from the main menu, and play ball! You'll never pay another penny for OOTP 15; there are no subscription fees.
WHAT IS OOTP?

Out of the Park Baseball ("OOTP") is the most sophisticated and best-selling baseball simulation game on the planet. Since its inception, OOTP has won numerous awards, including multiple "Sports Game of the Year" awards, en route to becoming the most immersive, realistic, and customizable baseball experience a fan can ask for!

KEY FEATURES

Manage your own baseball franchise 2014 opening day major league rosters, including full minors
Every historical season from 1871 through 2013 included
Create your fictional leagues, adjust rules and options
Play solo or multiplayer in online leagues

WHAT'S NEW?

Seven international leagues with real rosters
3D ballparks & ball flight support
New player rating system
Brand new interface, optimized for widescreen
Greatly improved AI
Plenty of new league rules & options
"An improvement on (near) perfection," says GM Games and gave OOTP 15 an 98 out of 100.
"OOTP is a legitimate five-tool game," says Most Valuable Zobrist. "It's the Mike Trout of baseball simulation software. BUY IT."
"[OOTP 15] literally puts the entire baseball world at your fingertips," writes Crooked Scoreboard.
DOWNLOAD FULL VERSION FOR WINDOWS

DOWNLOAD FULL VERSION FOR MAC

DOWNLOAD FULL VERSION FOR LINUX
Final OOTP 15 Update #6 Available

As the 2014 season winds down and we get excited for the playoffs, we thought we'd release the final update for OOTP 15, version 15.6 Read more

OOTP 15 Update #5 Available Now!

We have just officially released the 5th update for OOTP 15, version number 15.5.25. It is a maintenance release which fixes reported problems and also improves the 3D mode (the PC version now supports anti-aliasing, for example) and Facegen on the Mac. Read more

Out of the Park Baseball 15: 4th Update Available!

We have just released the fourth update for OOTP 15, version number 15.4.19. It is a rather big update with plenty of improvements, fixes and updated real opening day rosters (need to start a new game for changes to apply), so we definitely recommend installing the update. Read more