Out of the Park Baseball (OOTP) was first released in 1999 and is in its 21th incarnation. Its feature set has grown tremendously over the years, and today it's the most sophisticated and realistic baseball management game available. OOTP has won many awards over the years, including multiple Sports Game of the Year honors.
Like the sport it simulates, OOTP is flexible in many ways. You can immerse yourself in a baseball world any way you want. Create a league in commissioner mode and simply watch it evolve over decades. Take the reins in GM-only mode and conduct trades, negotiate with free agents, oversee team finances, and grow your farm system with careful draft picks. Dive deep into Manager-only mode and call the strategies for every at-bat from the dugout. Or take on GM + Manager mode and do it all.
You can also build a unique baseball world, thanks to OOTP's rich customization features. Set up a league in another country. Turn on free agency and/or the DH in the early part of the 20th century. Bring the dead ball era into a modern day league. See what happens when mingling superstars of yesterday and today in the same league. You can create just about anything you want with OOTP.
There are three different types of leagues you can play in OOTP
Each version of OOTP comes with a roster set featuring the current season's Major League Baseball rosters, including accurately rated real players from the majors down to the rookie leagues! Take over your favorite MLB team and guide it to glory!
Create your own historical league based on any real-world season from 1871 through the most recently completed season, including real historical minor leagues if you so desire. No need to purchase additional seasons! You can replay a single season, which is perfect for "What if?" scenarios, or start there and simulate into subsequent years, with real players entering the league during their rookie years. OOTP even takes historical evolution into account, including changing team logos, the addition of expansion clubs, franchise moves, the introduction of free agency and the DH, and much more. This also applies to the included historical minor leagues including over 150,000 real minor league players. Create an alternate baseball history!
Create a unique fictional baseball world based on possibilities limited only by your imagination. Want a 40-team league with 3 minor league levels in Canada? No problem! A small 8-team independent league with an age limit located in South Dakota? No problem either. You can even build leagues based on favorite movies, TV shows, books, or just about anything else. (How about teams full of famous historical figures? We see Genghis Khan as a formidable power pitcher.)
But it doesn't stop there! You can combine any of those league types to truly turn your baseball dreams into reality. For example, import the 1927 New York Yankees into modern Major League Baseball and see how Babe Ruth does against today's top pitchers. Or set up a league with the greatest teams from the US and Japan, competing for the ultimate championship. Or import individual historical players into your current fictional league – How would Ty Cobb do in your fictional world? OOTP is truly remarkable when it comes to fulfilling your baseball fantasies.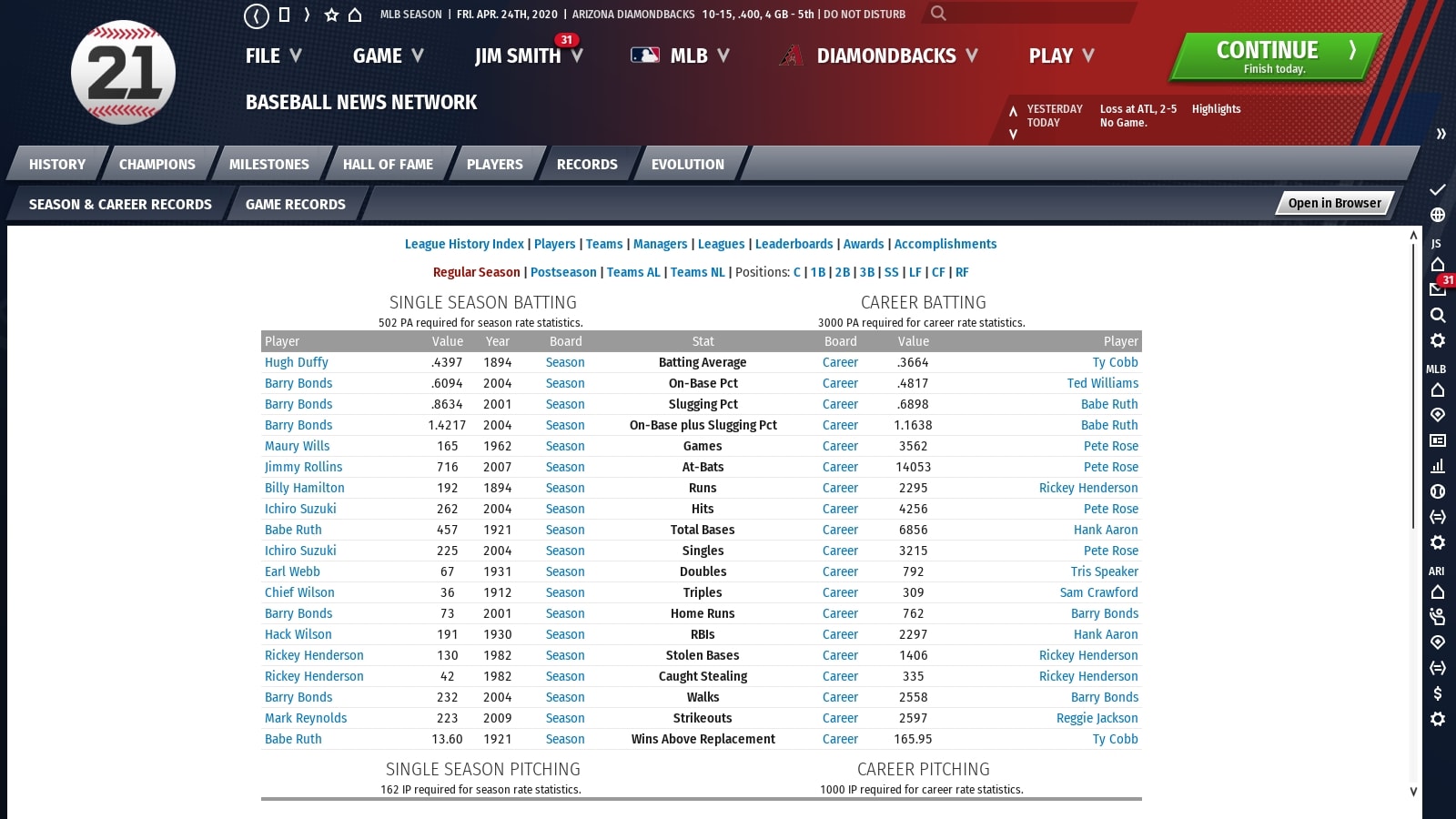 OOTP is a solo player's dream. You can get sucked into the game for endless hours. But there's no challenge quite as great as trying to fleece another human GM in a trade deadline deal! OOTP supports online leagues, many of which have been running for years now. OOTP also generates many HTML reports that the league commissioner can post online for all to see, including standings, stats, news articles, player profiles, and more. See here for a sample of the output that OOTP provides. Visit our online league forum and see if there are any interesting openings!
OOTP features the most advanced and realistic simulation engine available, incorporating modern statistical analysis and research, such as the DIPS theory. The sim engine and in-game artificial intelligence form a tandem that produces highly realistic statistical output, both on a micro-level (individual at-bats) and on a macro-level (league-wide statistical totals). OOTP isn't like other baseball games where the league leaders hit 87 home runs or bat .495! (Unless you change the parameters to allow inflated totals, of course.)
OOTP also shines in its realistic player careers, thanks to its use of the renowned ZiPS projections for real player ratings. Player development and aging routines have been carefully designed and improved over the years, resulting in very realistic and believable, yet unpredictable, player career curves. Will your top prospect wash out at age 26, or will he have a lengthy, award-filled career?
When you play a historical league, each season OOTP recalculates players' ratings based on their real life stats, so their careers will more or less follow the paths they actually did, barring time lost to injuries. (You can also choose to have players miss seasons because of World War II and the Korean War, as in real life.) You can also turn off recalc and see what happens when OOTP's player development engine takes over. Historical superstars could see their numbers fall far short of their real life totals while highly-touted players who never panned out in real life could see their careers take much different turns.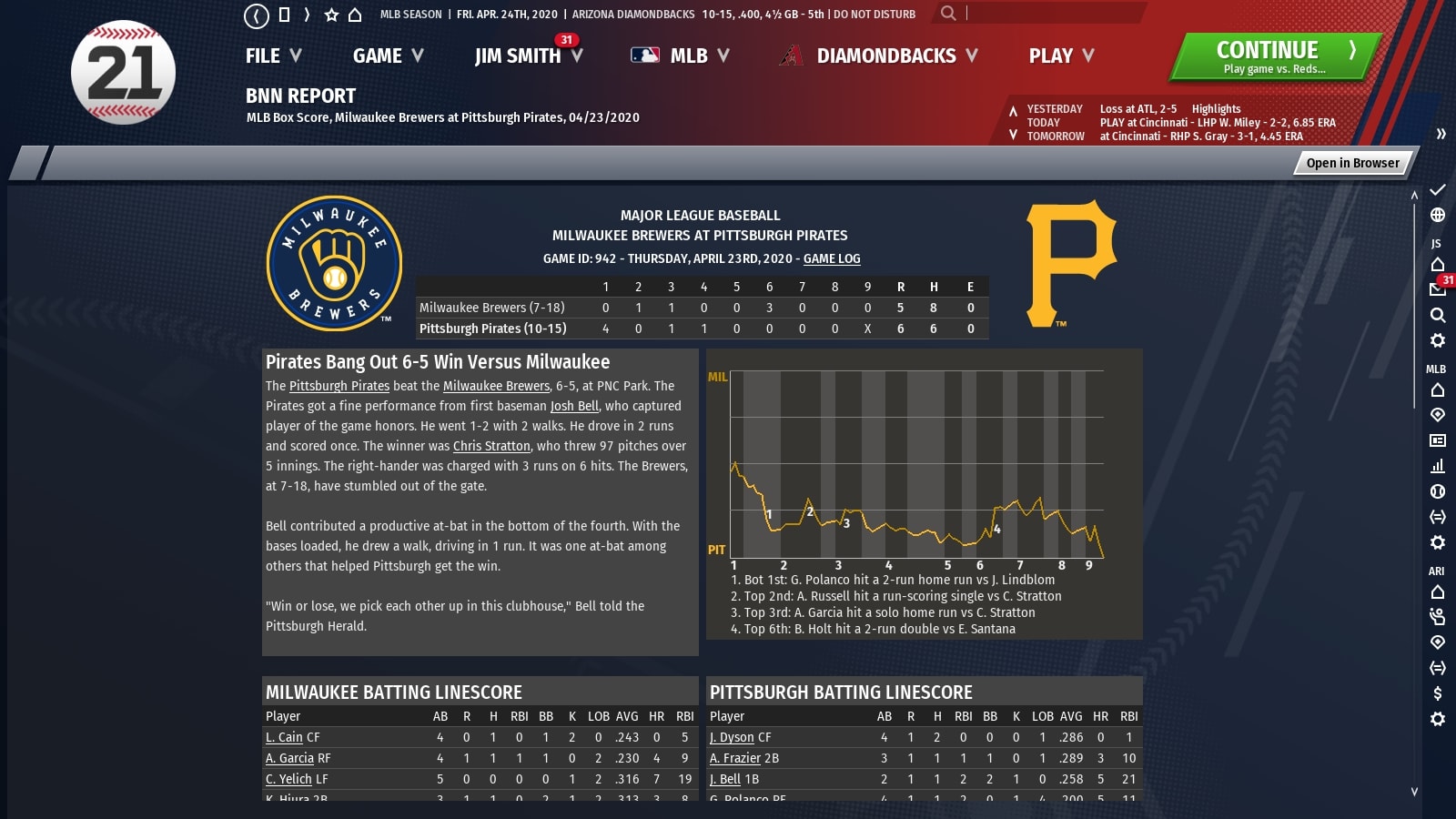 STATS, STATS AND MORE STATS
OOTP tracks the most statistics of any sports management game on the planet: everything from basic stats to WAR, WHIP, ERA+, FIP, OPS and OPS+, BABIP, and much more. All that data is available any time at your fingertips, with plenty of viewing and sorting options so you can evaluate all your MLB and MiLB players and make the right decisions.
On an individual level, OOTP tracks dozens of statistics for each player. How does your shortstop hit in a two-strike count with the bases loaded? Who led the league in triples in 1972? How many runs did that star free agent center fielder save the past three years compared to league average? It's all there.
On a league level, OOTP keeps a complete history available for you to review any time. Which teams scored the most runs in a season? Who won the fielding awards ten years ago? Which franchise has won the most pennants? The game features an entire baseball encyclopedia, whether you're using Major League Baseball rosters or your own fictional world!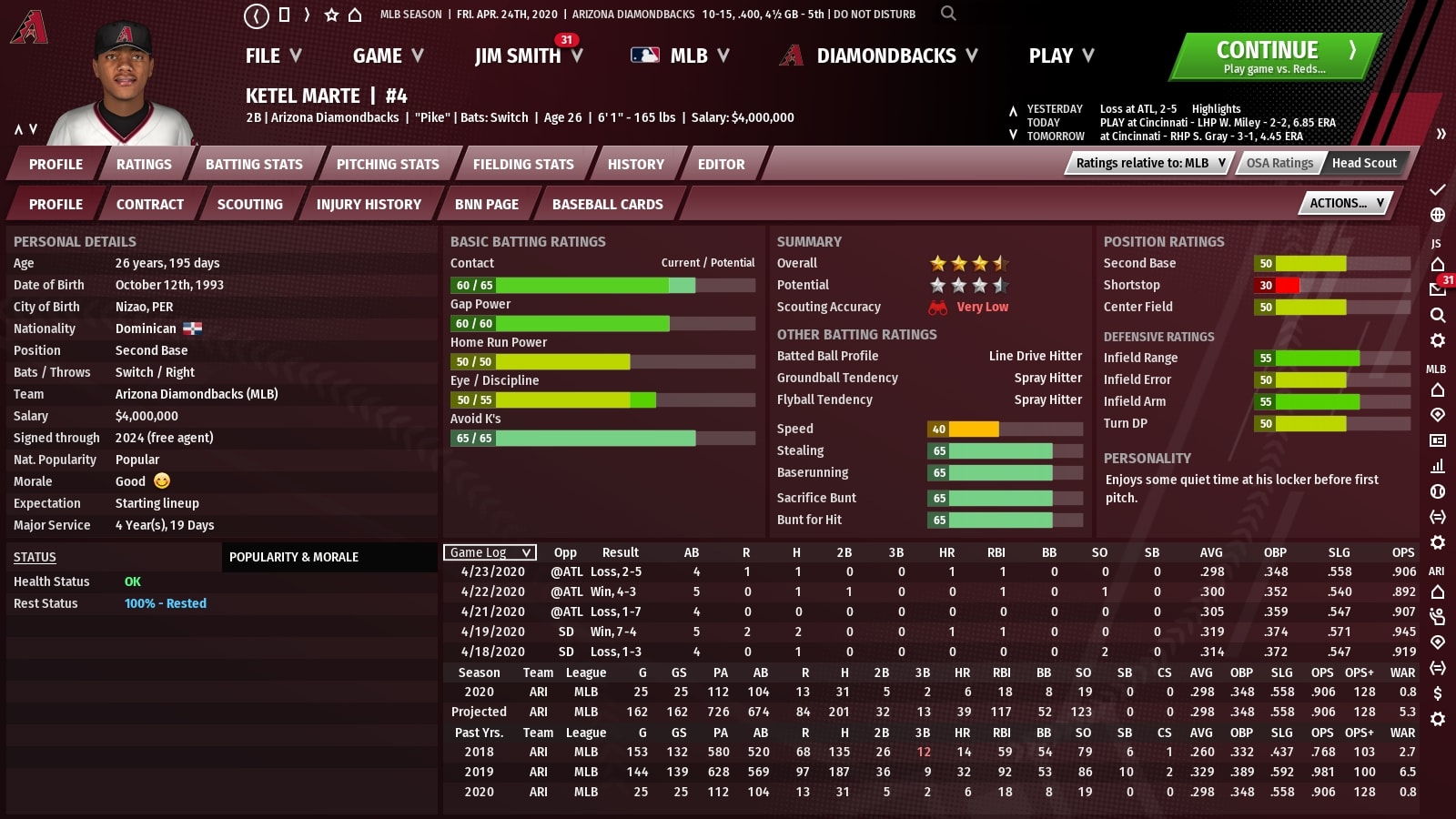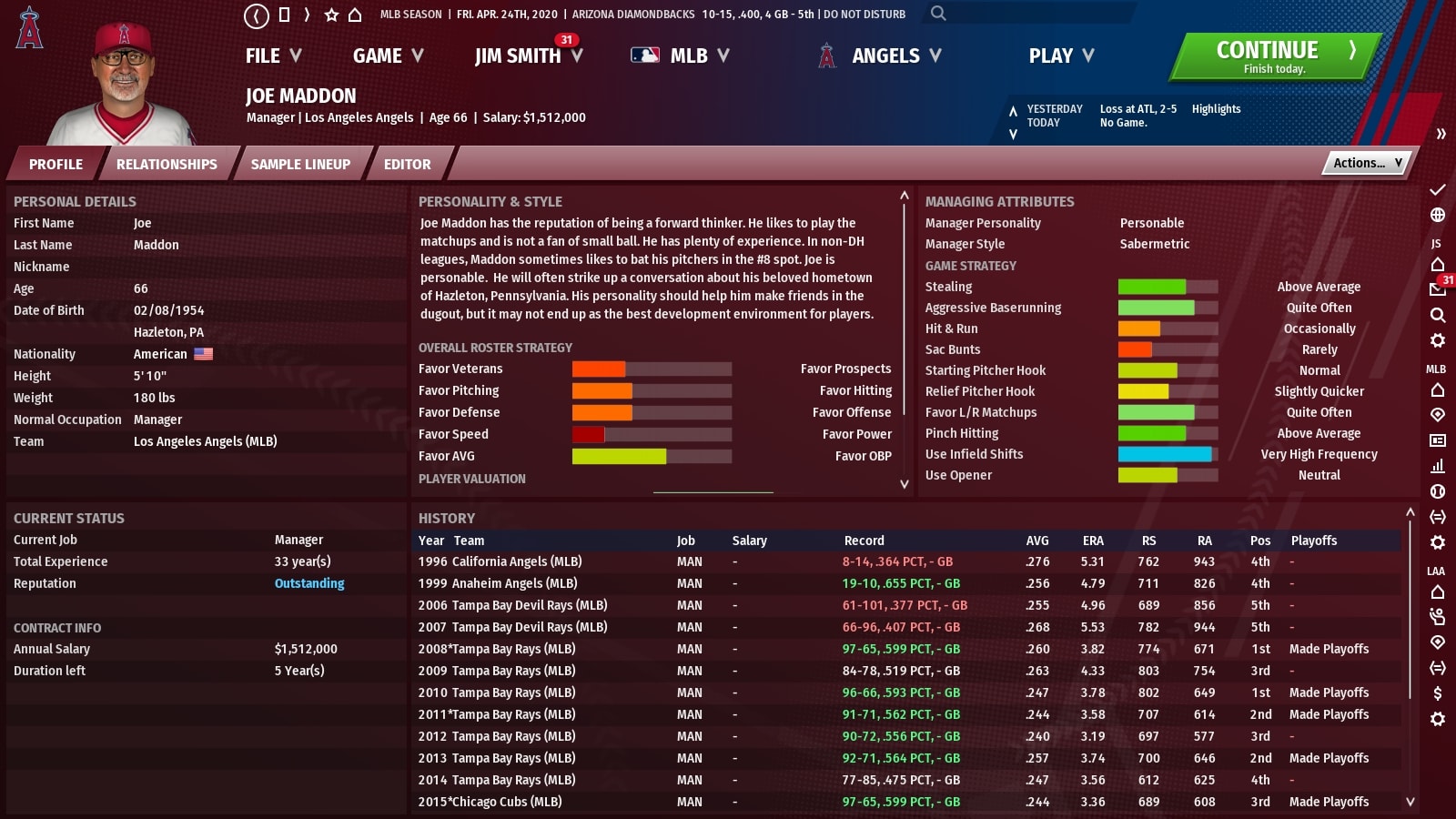 LIFE AS A GENERAL MANAGER
OOTP puts you in the driver's seat of any team, even a minor league club or a franchise in another country. Take control of everything that real-world GMs have responsibility over. Set the scouting budget and assign your scouts to other countries (they may discover the next foreign-born superstar), make roster moves, sign free agents, offer contract extensions, sign coaches, negotiate player trades, oversee the June amateur player and December Rule 5 drafts, and manage your finances, including ticket prices and other revenue sources. All modern rules are available, including 40-man rosters, waivers, disabled lists, expanded rosters, and more.
You'll feel like you've truly stepped into the office of a big league GM. Do you negotiate a contract extension with your salary-arbitration-eligible young star? Will you break the bank to sign a top-of-the-rotation starter in free agency? Will you accept a trade offer for one of your favorite players? Who will you pick first in the first-year player draft, and will he sign for a reasonable bonus? Will you let that aging veteran go to free agency, or will you offer him arbitration so that you get a compensation draft pick if he signs elsewhere? Will you keep that young catcher on the roster after Spring Training, or will you send him through waivers and risk losing him, because he's out of minor league options?
The GM's life in OOTP is as easy or as complex as you want it to be. All the rules and options can be disabled or tweaked to your heart's content, and you can turn many functions over to the AI, if you want. It's your game, play it your way!
The Strategies screen lets you set the approach you want when your team hits the field, including the ability to dictate tactics based on specific game situations. You can also determine individual player strategies, so, for example, you can insist that a star player is never lifted for a pinch-hitter, regardless of the situation.
Or you can play out each game individually and call all the shots from the dugout. Flash the steal sign, try to execute a squeeze play, put on the hit-and-run (or run-and-hit), bring in a pinch-hitter, and much more when it's your turn at the plate. OOTP will also ask for your decision in certain key situations, such as: A runner is on second and the batter hits a single. Based on the runner's speed and the outfielder's arm, do you send him home?
When pitching, you can pitch around hitters, pitch out, try a pickoff, and more. You also control defensive positioning, such as guarding the corners, moving your infielders and/or outfielders in or out, or employing a shift.
You can move through the action in one-pitch mode, which displays the result of each at-bat, or switch to pitch-by-pitch in key situations. For example: Bottom of the ninth, one out, you're down by a run, and your slow-footed slugger gets a base hit. You put in a pinch runner and decide which pitch would be best for a steal attempt.
As you make your choices, the results unfold with a text play-by-play description and animated ball graphics, accompanied by the crack of the bat, the roar of the crowd, and other sound effects. Tens of thousands of individual text lines present the game like a radio broadcast, complete with rare moments that pop up, such as the hidden ball trick.
You can opt for a 2D photo of your stadium, with 2D ball flight, or a 3D ballpark that has 3D ball flight and player movement, so you can watch your players perform on the field visualized by animated 3D symbols.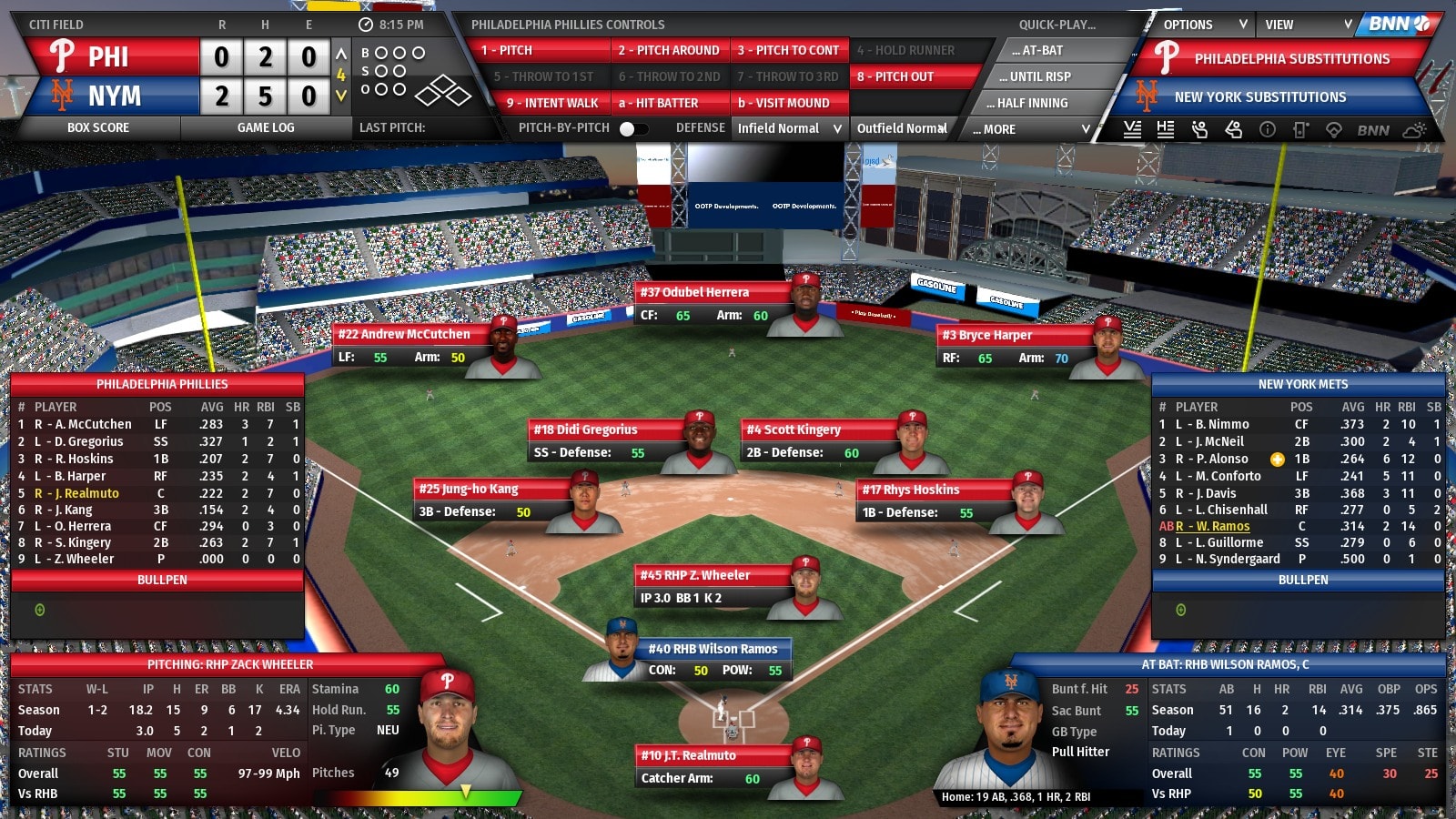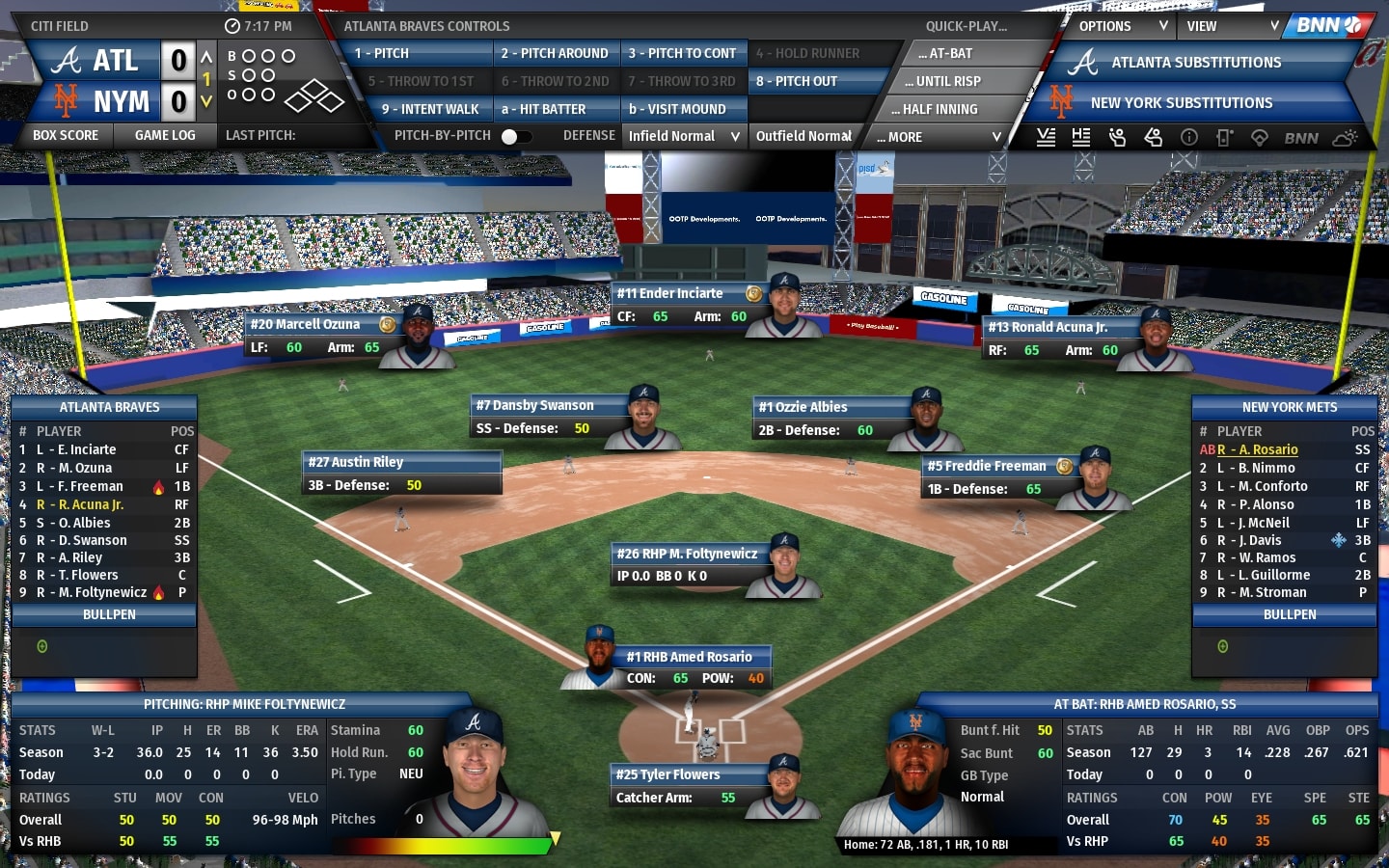 OOTP immerses you in an ever-evolving baseball world. The game generates a wide variety of news articles and communications on the fly, so expect to hear about it when that slugger pounds four homers in a game, or when you shut out your opponent. You can even write your own game recaps and articles that are stored in the league history!
Players, managers, and coaches also have unique personalities. That veteran reliever you've been using in the 7th inning may let you know he expects to be a closer. Your veteran outfielder may complain that he wants to play for a winner when you're playing .400 ball in August. If you're in GM-only mode, your hard-nosed manager may insist that you keep your hands off his strategies. And your finesse-focused pitching coach may turn out to be incompatible with your staff of flamethrowers.
Players, managers, and coaches in OOTP are not just ratings and stats – They develop a life of their own and will make you feel like you're part of a real baseball team!
OOTP also features the FaceGen image engine, which creates realistic player photos for your fictional players on the fly! Their faces change as they age, as well as when their moods change. Their caps and jerseys also change when they switch teams.
OOTP's sophisticated user interface will never leave you in the dark. Interactive help is available on every screen, including tooltips, and you can find plenty of video tutorials on our site. OOTP employs widgets whenever possible, so you can customize many screens and ensure they fit your playing style. The game also includes a searchable online manual that is second-to-none in the gaming world in its thoroughness!
Above all, OOTP is highly customizable. You have great flexibility in how your baseball experience plays out, and our community has created many custom modifications (logos, player photos, special roster sets, player jerseys and ball caps, utilities, and much more) that will make your baseball experience even more enjoyable!